WebSmith Cloud Hosting is a simple, versatile platform for hosting your website, email and blogs.
Supports WordPress, Joomla CMS and more! Whether your site runs in HTML, ASP, PHP or .NET, WebSmith Cloud hosting is always ready with support for sites that run a variety of technologies including popular CMS (Content Management Systems) like Joomla, Drupal, DotNetNuke, and of course full database support for MySQL and MS-SQL. We even offer a one-click WordPress and Joomla installer!
Highest uptime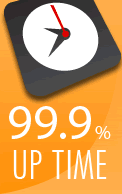 You want your site working. Day, night, weekends – all the time – right? With our Cloud Web Site hosting that's exactly what you'll get. So, you can relax all day and sleep well at night knowing your site is running and your email is working!
Intelligent Cloud scaling to handle traffic
Worried about a sudden increase in traffic or overloaded shared servers like you find at stopDaddy, don't be. WebSmith Cloud hosting can handle billions of web requests. Server resources can automatically be added to handle sudden surges in traffic to your sites.
Case and point: we provide hosting for seasonal businesses like FrightNights Halloween experience – in late September and certainly in October their traffic increases 10 fold! In order to scale up to meet that demand we use intelligent Cloud scaling that dynamically provides the needed resources to meet the demand.
Down-time erodes your companies credibility as well as your bottom line. Ever wonder how much down-time actually costs you and your company in actual dollars? Try our down-time calculator and see!