The following article below will demonstrate how to setup your WebSmith Cloud Email account with Outlook 2013.
Let's take a look at the steps below to get you going:
1. Open the side charms by moving your mouse to the top right of the screen. Then click Search. Search for Mail then click on Settings. ( for Windows 7 and below go to Start -> Control Panel and search for Mail)
2. On the left side of the screen click on Mail. Then Click on Add…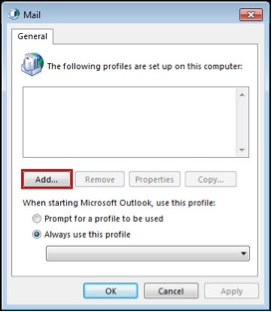 3. The Profile Name can be anything you would like. Click Next and select Manual setup or additional server types. Select IMAP and click Next.
4. In this new Window input the corresponding information.
a. User Information (Recipient will see)
i. Full name: First and Last Name
ii. Email address: [email protected]
b. Server Information (Servers that the email will use)
ii. Incoming IMAP settings:
| | | |
| --- | --- | --- |
| Server | SSL | Port |
| imap.emailsrvr.com | No | 143 |
| secure.emailsrvr.com | Yes | 663 |
iii. Outgoing (SMTP) Settings
| | | |
| --- | --- | --- |
| Server | SSL | Port |
| smtp.emailsrvr.com | No | 25, 2525, 587, 8025 |
| secure.emailsrvr.com | Yes | 465 |
c. Logon Information (Credentials the email will authenticate with)
i. Username: [email protected]
ii. Password: Password assigned to you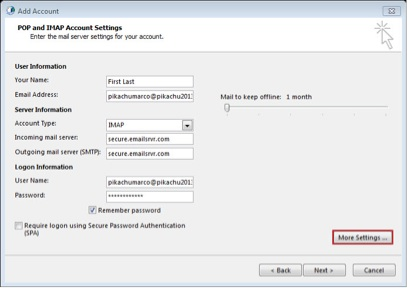 5. Click on More Settings then click the Outgoing Server Tab
a. Check the box for My outgoing server (SMTP) requires authentication.
b. Check the button for Use same settings as my incoming mail server.
6. Click on the Advanced Tab
a. If using secure.emailsrvr.com first change Use the following type of encrypted connection: to SSL.
b. Then change the port numbers to match the chart on step 4.b. Click OK.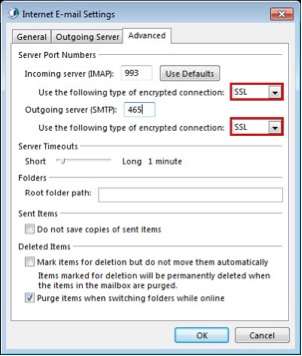 7. Click "Next" Outlook will now attempt to send a test message using the settings we have just put in. If everything was up in correctly the message will send out successfully.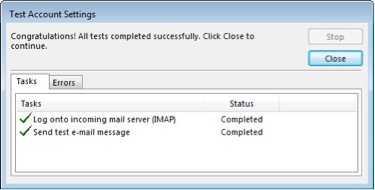 8. Congratulation! You have now setup Outlook to work with your Cloud Email!