Why post an SLA when what matters is that you are up! It's very important that we keep your business, so you can count on us to keep your services up as close to 100% as possible!
We have a record of running 99.95% over the last 4 years. Many providers consider 99% up-time acceptable, which means you could incur twice as much downtime. Again, the bottom line is we promise to keep you up and running to the best of our ability – if we don't you will leave us.
Message from our founder: You'll always have my phone number — if any of our systems break, you can call me personally 24/7 and I'll get my team on it. If we aren't living up to our end of the bargain, you can cancel your service at any time, with no penalty and a pro-rated refund!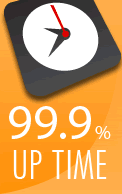 Posted 10-2-2013 – 4 year period from July 14 2009 thru August 2013