Now you can amplify your site through Facebook or Twitter with WebSmith
Create strategic and engaging Email campaigns with a huge range of professionally designed templates. Target your campaigns with intelligent segments, and measure your campaign results with real-time reports.
Message Builder™: You don't have to be a designer or know HTML to create stunning email messages. Start by selecting one of our hundreds of professionally-designed and proven templates, customize it, run it through our spam and spell-checking tools and conduct a quick test before sharing your email with customers and prospects.
Autoresponders: Send the right message at the right time, automatically. Pre-programmed autoresponders are sent automatically as your customers reach different points in their relationship with you. From welcome messages and webinar series invites to birthday offers and reminders about how many days are left in a free trial, autoresponders keep your brand in front of customers effortlessly.
A/B Split Testing: Find the right message for your target audience. Create two versions of your email and test them with your list to figure out which one resonates better. Choose the winner yourself, or let our software select the winner for you. Then, send your best performing email to your entire list.
Public and Private Surveys: Create your own custom topic and questions. Powerful features allow you to use the results of your survey in future email campaigns to target certain responses in a given survey! Ask your clients or your web site visitors (future clients) questions that entice them to respond, create compelling interactions that empower your clients and enhance your profitability!
Contact Management
Our users leverage a customizable contact management system to upload email lists to effortlessly manage subscriptions, key customer demographic information to create segmented contact lists. Targeting messages to specific customers leads to better open and click through rates and a higher ROI.
Website sign-up forms: Add an email sign-up form to your site and encourage your casual visitors to become engaged email subscribers. Simply create a sign-up form and customize it to your heart's content.
Social media sign-up forms: Entice your Facebook fans to subscribe to your emails by creating a sign-up form for your Facebook page. Include a short description that describes the great perks and deals your fans will receive as subscribers, choose your basic and custom fields, and preview your form before adding it to your page.
Segmentation: Segment your email lists by subscriber behavior, including opens, clicks, bounces, and unsubscribes.
We lead the industry with top email delivery success rates.
Undelivered emails are not only a drain on company time and energy; they can also expose your lists to unnecessary bounces and removals that cost your business money. We get your messages through when other email marketing providers can't. And unlike a run-of-the-mill email client, we provide tracking data for your messages so you can see the results.
Our SpamCheck™ helps you create deliverable messages: SpamCheck™ technology reviews your messages and assigns each one a score. The lower the score, the more likely it is that a customer's Internet service provider (ISP) will not mark your message as spam. But that's not all – if your message is flagged, we tell you exactly why and give you an opportunity to edit it before sending.
We stay whitelisted, so you aren't blacklisted: Our provider of email marketing solutions sends billions of messages each year. We work with the major ISPs to stay whitelisted and to keep you off their blacklists. We're known for our email delivery because of these solid relationships.
We have a dedicated email delivery team: Our email delivery experts focus solely on getting your messages delivered to your customers' inboxes. These specialists monitor our mail servers around the clock and work hard to maintain our reputation for the best email delivery in the business.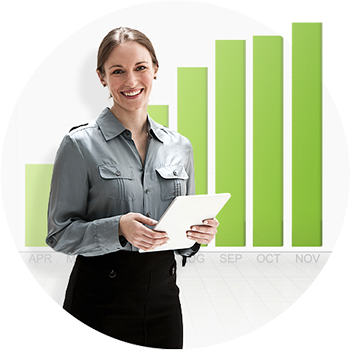 Email Analytics
Using advanced message tracking tools and metrics, we ensure you have the data you need to create messages that deliver real returns on investment.
Google Analytics Tracking: Improve your web-tracking and email marketing with WebSmith. Our integrated software lets you automatically add your Google Analytics code to the links in your email so you can track your traffic easily.
Email impact: Find out how many of your contacts opened your messages, clicked your links, shared your messages with friends, filed spam complaints or unsubscribed from your lists.
Contact-level tracking: Take a look at how individual contacts responded to your emails, including when and how many times they opened your messages and which links they clicked.
Reporting & Statistics: View message trending results for emails sent over a period of time. Build on opens, clicks and shares across multiple messages, and compare your past email performances to evaluate what content your audience responds to and when. We even highlight the best stats so you can quickly see the metrics that matter most to you.